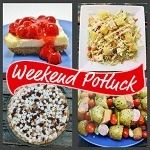 Oh, easy weeknight meals with only a few ingredients, how I love you! I tried this
baked ravioli
a couple of months ago for the first time and we loved it! Not only did it taste really good, it only has 4 ingredients! It's also super fast to assemble. I believe the pin description on Pinterest promised an assembly time of 3 minutes. It wasn't quite so fast for me...but that could be because I had to make sure every centimeter of the ravioli were covered with marinara sauce. Who wants to bite into an unevenly sauced section of baked ravioli? Not me. NOT me. Three minutes or not, the assembly time was still very fast for such a good result.
The original recipe only calls for marinara sauce, frozen ravioli, mozzarella cheese, and parmesan cheese. I made it exactly as written the first time and it was delicious. When I made it the other night, I had half a jar of alfredo sauce and some pesto in the fridge, so I decided to mix them together and add another layer. It was the right thing to do. :) It made it creamier, cheesier, and added another layer of flavor. I'm sure I'll make the original recipe again, but if I've got alfredo sauce and pesto on hand, I'll definitely make it that way!
Baked Pesto Alfredo Ravioli
Makes 6-8 servings
Printer Friendly Version
1 (25 oz.) bag of frozen ravioli
1 (26 oz.) jar of marinara sauce
(The better sauce you use, the better it will taste!)
2 cups shredded mozzarella cheese
(I used six cheese Italian.)
1/2 (15 oz.) jar of alfredo sauce
3 T. pesto
Parmesan cheese, for sprinkling
Dried parsley, for sprinkling
(I just think it makes it prettier!) :)
Heat oven to 400°F. Spray bottom and sides of a 9×13 rectangular baking dish with cooking spray.

Mix the alfredo sauce and pesto together.

Spread 3/4 cup of the pasta sauce in baking dish. Arrange half of the frozen ravioli in a single layer over the sauce; top with half of the remaining pasta sauce, half of the alfredo sauce and pesto, and half of the mozzarella cheese. Repeat layers once: ravioli, remaining pasta sauce, remaining alfredo sauce and pesto, and remaining mozzarella cheese. Sprinkle with Parmesan cheese and dried parsley.

Cover with aluminum foil and bake for 30 minutes. Remove foil; bake uncovered for 10 to 15 minutes longer or until bubbly and hot in the center.* Let stand for 10 minutes before serving.
*I like to turn the oven on broil for the last 2-3 minutes to make the cheese nice and bubbly and a little bit crispy. Just remember to chant "broiler, broiler, broiler" to yourself while it's in there so you don't forget about it. (Wait? Am I the only one who tends to forget when I put something in to broil and then burn the heck out of it? Surely not...)
Let me know if you try it and what you think!! :)